RP Paint Arrestors paint booth filters
With 24 years of experience, RTT's extensive line of RP Paint Arrestor Products are the best paint booth filters on the market. They are easy to install, made from the highest quality, performance-based components and can be customized to the space or functionality needs. RTT Engineered Solutions is an industry leader in paint booth filter manufacturing, all based out of Rockwall, TX.
Features of the RTT paint booth filter product line
• Made of slit and expanded paper
• Engineered for depth loading, extending life and holding capacity
• Polyester (recycled) layer increases efficiency with finely atomized particles
• Available in pads, blankets or bags for a wide variety of uses.
Factors influencing the choice of paint booth filters for your application include the type of paint being sprayed and the expected life of the PA. Use the Paint Arrestor Selection Chart as a guideline for selecting the PA Series that is suitable for the type of paint you are spraying.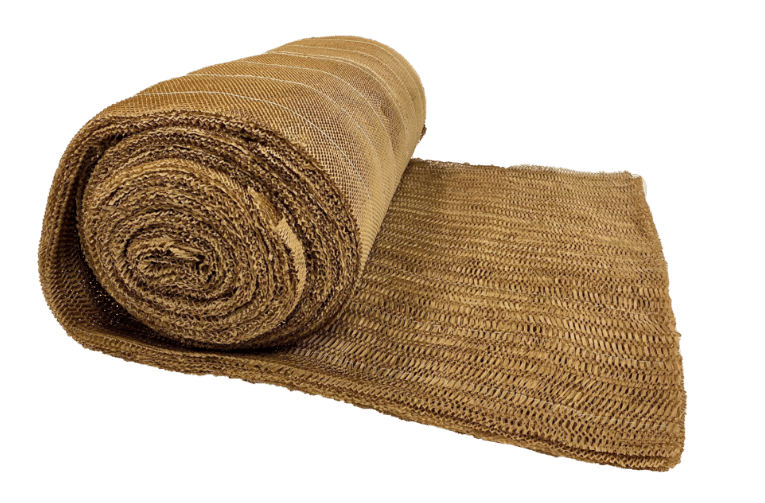 RTT Featured Filter: RP W-Series Filters
• Made of slit and expanded paper with white outer layer for identification
• Engineered for depth loading, extending life and holding capacity
• Virgin polyester layer increases efficiency with finely atomized particles
• Available in both pads(square in size for grid applications) and rolls that can be cut to length and width specifications.
• Exceeds ASHRAE Method 5.1 test requirements as modified for paint test
In 2017, RTT Engineered Solutions acquired RP Paint Arrestors, the leading manufacturer of paint booth filters. RP stands for Research Products and they had been manufacturing slit and expanded paper for the last 60 years. They were the first to innovate the product. Over the course of a year, we integrated their entire manufacturing process into our facility in Rockwall, TX.
RP ARRESTORS & SPRA-CUBE ARRESTORS
Paint Booth Filters
SERIES 3000-3700
The main application of these paint booth filters is for use in conjunction with any primary stage overspray filter. read more…
SPRA-CUBE ARRESTORS
The RP Spra-Cube extended surface cubes are the latest in RP's storied line of high efficiency spray booth filters. read more…
Why RTT?
RTT Engineered Solutions manufactures paint booths for a variety of applications including Industrial Booths, Large Equipment Booths and Automotive Booths. Our short lead times mean you can get up and running with your new RTT paint booth quickly. We provide full transparency with pricing quotes and can work within numerous budget constraints. Not sure what you need? Give us a call and one of our representatives can walk you through the right paint booth application for your industry or click here to send us an email.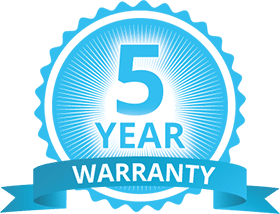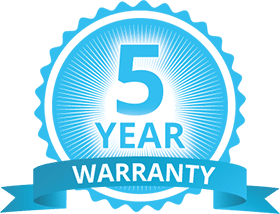 RTT's customer service is unmatched
RTT's customer service is unmatched in the paint booth industry, and we are the ONLY paint booth manufacturer to offer a 5-year warranty on our spray booths, when used with our RTT high performance RP W-Series exhaust filters. These filters have been designed, tested and approved to provide superior paint particle separation while restricting the least amount of air flow in accordance with ASHRAE 52.1. The RTT RP W-Series filters available in both pad and roll form have been designed to perform well in a wide variety of applications.
Other Paint Booth Options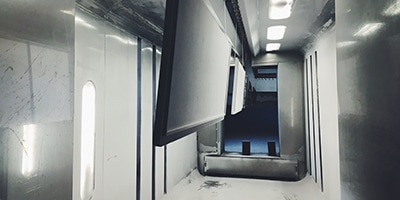 DURABLE POWDER COATED WHITE OPTION
Powder coating is a high-quality finish that provides a more durable and attractive finish. Your paint booth will be more resistant to scratches, chips, abrasions, corrosion, fading and other wear issues.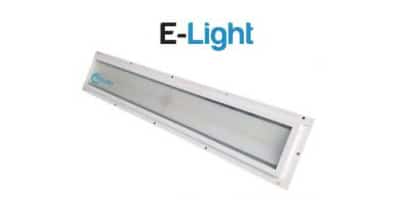 E-LIGHT LED LIGHTS & RETRO KITS
RTT's E-Light LED lights offer many advantages to fluorescent lamps such as improved durability, an exceptionally longer life span, lower energy usage, reduced maintenance costs and higher safety. Dimmable options available.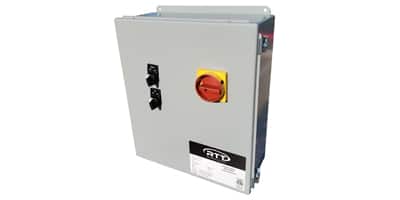 BASIC CONTROL PANEL
Motor starters are our most basic and cost-effective option to easily operate the fan on your booth. The motor starter is pre-wired in a NEMA 1 enclosure and is equipped with an adjustable solid-state overload relay and a 4-pole 23-amp contactor. Motor starters can be set up for just about any voltage, phase and HP configuration needed for your application.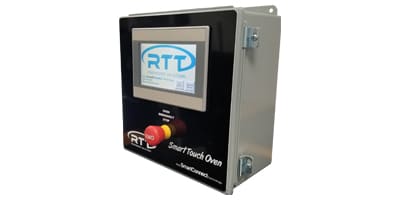 TOUCH SCREEN & PLC BASED CONTROLS
RTT offers touch screen controls for our batch ovens, paint booths and powder collectors, allowing for simple operation of your equipment. There are (3) size options to choose from as well as expandable input and outputs, on screen pressure monitoring, precise system information, built-in hour meters, and ethernet communications.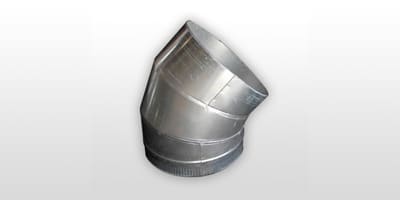 EXHAUST DUCTWORK
We offer High-quality 18-gauge galvanized steel ductwork and other needed accessories to properly exhaust your finishing equipment. The components come in a wide variety of configurations depending on your paint booth structure and features. Our ductwork construction provides superior protection against destructive elements including corrosion and rust.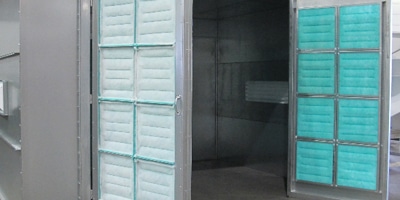 FILTERED BOOTH DOORS
Fabricated with a tubular steel frame and hung on structural channel jambs, the doors feature integral filter holding cells ready for filter placement. These doors are provided with a foam rubber seal around the perimeter and a rubber sweep seal at the threshold. The mounting hardware provided includes FM approved panic type safety latches and door pulls.